Creek Technologies Named Dayton-Area's Fastest Growing Company
Published
August 12, 2019
---
CreekTech moves to the head of the pack in the Dayton metropolitan region with a surge in revenue and a solid team.
Following some very positive coverage from the Dayton Business Journal regarding CreekTech's emergence as a small-business defense contractor, the DBJ recently posted its list of the area's fastest growing companies – with CreekTech as numero uno! CEO Lea Culver seemed genuinely surprised, admitting he "had no idea we would be ranked #1" out of the dozens of local companies surveyed. Calling it a "great honor," Lea immediately credited "the incredible business development team that has embraced CreekTech's vision and organizational culture."
CreekTech is the second-smallest of the five companies highlighted in the article, having grown an average of 200-plus percent annually in revenue since 2015. The next-fastest growing companies were another IT-centric firm and an environmental consultancy. A third IT provider and electrical contractor rounded out the top five.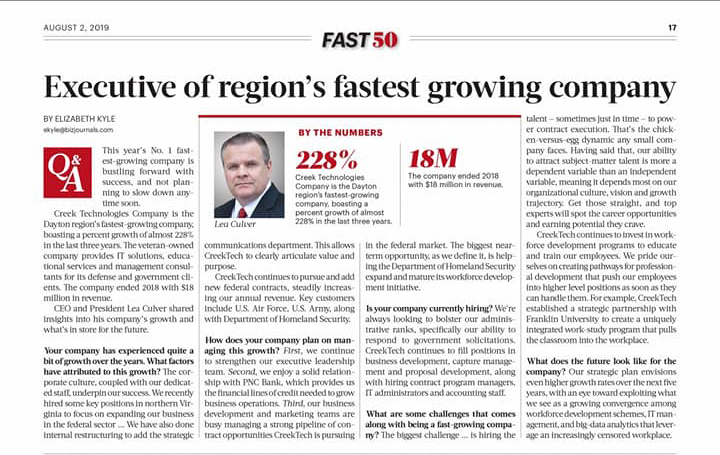 CFO Robert Dowty could not help but marvel at CreekTech's trajectory, which he traced back to "Lea's vision for the company, his passion to help employees better themselves, and leading by example when there is a job to do." Calling it "just the start," Dowty's optimism was easily matched by Kate Monahan, Strategic Communications Director, who noted that, "between DHS funding a number of new education-based initiatives and the expanding competitive landscape, it's an exciting time to be in the industry." Director of Education Services Rich Suttie seconded that analysis, stating that "DHS' drive to dramatically improve its workforce development yields a target-rich environment for a firm with our proven capabilities."
Thomas Barnett - CT contractor